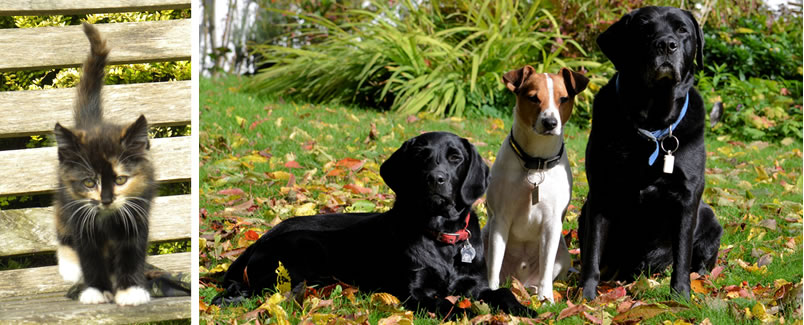 Archived News
From 6th April 2016 it became a legal requirement to have your dog microchipped
From 6 April 2016 all dogs in England have to be microchipped and registered on an authorised microchip database by the age of 8 weeks and before transfer to a new owner? Owners are also required to keep their contact details up to date on the microchip database.
Microchipping is a simple procedure that identifies your pet with a unique, traceable form of identity. The microchip is about the same size as a small grain of rice and is injected under the skin between the shoulder blades. Each chip has a unique number that can be read by using a special scanner. This number is held on a national database together with your contact details, providing peace of mind that when your pet is found and handed into a police station, vets or dog warden, he/she can be scanned and easily traced back to you. We encourage microchipping of puppies and kittens with their primary vaccination course. Please visit www.identichip.co.uk for further information.
Horse Healthweek - 21st to 28th September 2015
Horse Health Week forms part of a much larger campaign 'Keeping Britain's Horses Healthy' and is designed to highlight and focus the attention on the importance of equine preventative health. During this week we will be focusing on the seven pillars of preventative healthcare:
General well being
Infectious disease prevention & vaccination
Parasite control & responsible worming
Nutrition & weight management
Caring for your horses teeth
Feet & farriery
Taking on a new horse
21st September 2015
As part of our involvement in Horse Health Week we are offering our clients a FREE horse health check*.
To download your FREE voucher visit www.healthyhorses.co.uk/horse-week and enter the code 8744P when prompted.
*Terms and Conditions-The voucher must be redeemed at the time of vaccination and is valid from 1st October 2015- 31st December 2015.
The importance of microchipping your pets
Did you know that from the 6th of April 2016,every owner in England will have to have their dog microchipped by law and registered to an approved database. It is also vital that if your pet is already chipped you keep your details up to date with the chipping company. We have had a few stray dogs brought in over the past few weeks that were happily reunited with their owners thanks to their microchip!

We are offering microchipping for only £15.00 so give us a call or pop into the surgery and get your pet chipped.
COULD YOU BE ONE OF THE 3,000 HORSE AND PONY OWNERS NEEDED TO PARTICIPATE IN THE FIGHT AGAINST LAMINITIS
The Animal Health Trust (AHT) and Royal Veterinary College (RVC) are collaborating on a four-year web-based research project – funded by World Horse Welfare – and need 3,000 horse owners to take part. This is an exciting chance for equine owners in Britain to actively participate in scientific research and help to improve the health and welfare of British horses and ponies.

Any horse or pony, regardless of whether or not they have a history of laminitis can be registered and a detailed online questionnaire completed providing general information about their horse or pony, their management and previous and current health.

Benefits for horse owners taking part:
As collaborators in this study you will:
•Actively contribute to research aimed at improving the health and welfare of all British horses and ponies
•Receive access to information and articles relevant to horse health
•Learn how to accurately estimate and monitor the weight of your horse/pony
•Have access to monthly records of your horse/pony for future reference
•Be given the chance to have your horse/pony as the 'Featured Equine' on the website
•Have the chance to win great prizes from the sponsors
•Feel good about helping researchers better understand the triggers of this debilitating disease.
For further information please click here

Horse owners interested in taking part in the 'CARE about laminitis' research project can register at www.careaboutlaminitis.org.uk, or for more information email danica.pollard@aht.org.uk
FULL-TIME REGISTERED VETERINARY NURSE POSITION
We are looking for a full-time Registered Veterinary Nurse to join the team at our Leominster Surgery. This is an opportunity for someone with initiative and commitment to further improve our clinical standards within a supportive team. The ideal candidate will be a caring, organised nurse who is able to adapt to the varying needs of the practice. You will be enthusiastic, reliable and ready to join a fun team and in return we offer a competitive salary and fully supported CPD including the opportunity for focussed clinical development
Please apply in writing, enclosing a CV, to Ruth Mead, Head Nurse, at Marches Veterinary Group, Ryelands Road, Leominster, Herefordshire HR6 8PN
Dog has lucky escape after falling more than 65 feet down an unused well
Posted on 7/01/2014
Firefighters from Leintwardine, Bromyard, and Malvern and a Vet from Marches were summoned to Wigmore, near Ludlow to rescue black Labrador Deegan after he fell down an overgrown well more than 65 feet deep.
The well that Deegan fell down
After an unsuccessful attempt by his owner to reach the bottom of the well with a ladder, the Fire Brigade was called. Initially, two crews arrived - the retained fire crew from Leintwardine and the Large Animal Rescue team from Bromyard, but they were unable to reach the bottom of the well with the equipment they had with them. The specialist Rescue Team from Malvern was then called and one of the Firefighters managed to secure Deegan in a specialist harness before they were both hauled to the surface and safety.
A happy outcome for all involved
Despite his ordeal, he managed to walk down the hill unaided from the site of his subterranean plunge and, when examined by one of our vets from the Marches, was found to have sustained no more than a few minor cuts. After posing for a photo with the Malvern Fire and Rescue Team and his grateful owner, a wet and cold Labrador trotted off home for a very well earned early supper and extended fireside snooze.